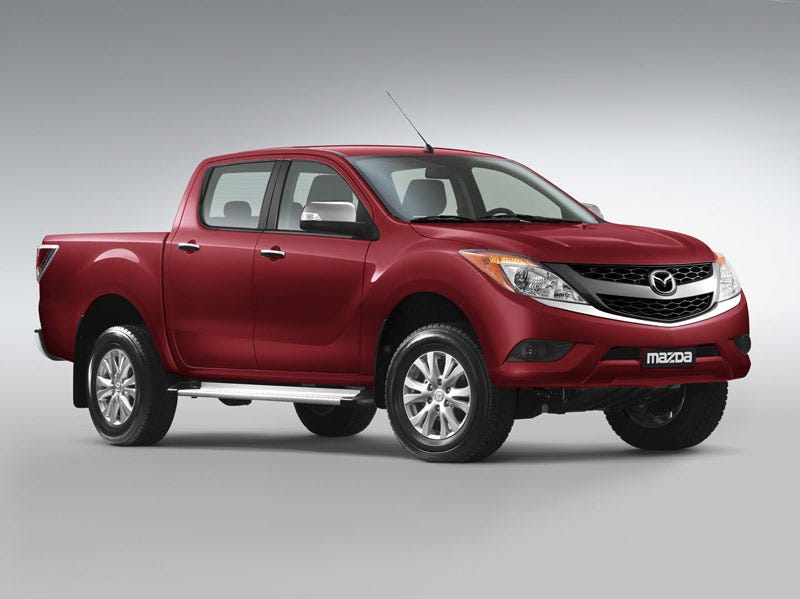 Badges are the weirdest things ever, you can go full old-GM with them and don't distinguish them at all apart from changing badges or you can do what VW does and make a single platform that can be changed enough to compete in many segments and price brackets. A third option, taken by these two is just not making any sense.
(Welcome to Forbidden Fruit, where I show you things that are extremely unlikely to find their way to your home and why you would enjoy them being there.)
Mazda and Ford have been on an open relationship for a long time right now, the blue oval has a 2.1% ownership stake on it right now but at one point they owned a 33.4 controlling stake on it. All these years they have both made it work through joint developments. When Mazda was taking its first teeny baby steps in here back in the early seventies some of their pickup trucks were taken to a big warehouse in Detroit where they'd swap the badges out for Ford badges and call it the Ford Courier. Things went well until around 1982 when Ford decided it had had quite enough of just rebadging foreign trucks and decided they knew best about what Americans wanted in a small pickup truck. The result of that endeavor was The Ford Ranger.
That was the end of that for Ford badged Mazda pickups in the United States, not too long afterwards the start of Mazda badged Fords. Elsewhere however the then-current generation of Mazda trucks was still sold under the Ford Courier name. Ford wouldn't take it anymore, if the Courier had been killed in America it's because the Ranger was obviously the superior product and for would show them. They'd see, EVERYONE WOULD SEE (Insert maniacal laughter from Ford executives here) And so it was that when the next generation of Mazda trucks were rebadged…as the Ford Ranger. So now in markets like Latin America you had two trucks from the same brand, with the same model, but that were completely different from one another. Like if McDonalds decided to sell the Big Mac and McRamenNoodles. They're both fast food and they're both quite cheap but that's where the similarities ended. In 2012 and with the American Ranger bidding goodbye the McRamenNoodles won.
Except they didn't.
Designed and built to compete with the likes of the Isuzu D-MAX (Chevrolet Colorado) and the Toyota Hilux the current generation of the Mazda B-Series (Now called BT-50 for reasons marketers will be delighted to make a powerpoint on) is based on this, the current Ford Ranger. Powered is provided by a 3.2L I5 engine with 200 horsepower and 350 lb-ft of torque. Publicity blurbs emphasize that it's much more civilized and technologically advanced than their old models.
And this is where we get to the reasons why you won't get it stateside, of course the chicken tax is a factor but the key one is price. America is not constricted by space the way other countries are so you can still realistically buy a car using "bigger is better", especially when it comes to macho butch pickups. So who is going to say no to a Silverado, or a Ram, or an F150 XLT and go for the smaller and similarly-priced Mazda? The $50,000 pickup truck exists elsewhere in the world, only that you get less bang for your buck. Shame because I know quite a bit of you would enjoy this forbidden fruit.
Gerardo Solis decided he needed a short bio where he could tell people that he is a Honduran Writer and Engineer in Computer Sciences. He also thought it'd be a good idea to link his other work, which he does on Curbside Classics and Hooniverse. You can also follow him on Twitter where he occasionally fights with Stef Schrader about the 911 Targa being the best 911 (Shut up Stef, it is!)